Keeping Pests Away Is Now Easier Than Ever With This Ultrasonic Repeller.
Keep your home and garden an animal-free zone with this state of the art animal repellent which features an upgraded design, being highly practical and effective!
Based on a chemical-free ultrasonic technology, with a modern motion detection sensor, plus a sturdy waterproof construction, this device is animal-friendly and 100% safe for your kids, keeping at bay rodents, squirrels, cats, dogs and other uninvited guests!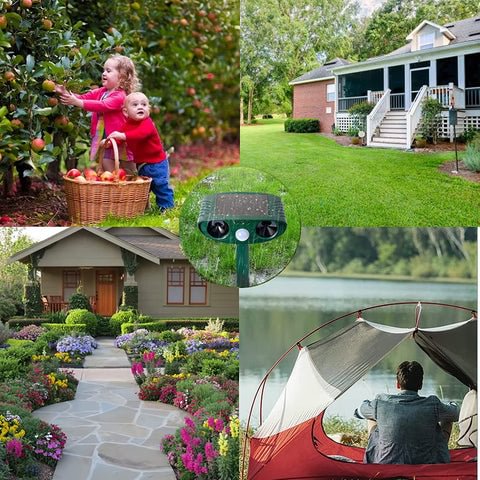 Features:
Environment Friendly

- The animal repeller will scare away the animal intruders with ultrasonic sound with no harm to them. No messy chemicals and pesticides, no traps, no dead animals and advocating environmental friendliness.Will not have any harm to the human body. And will not hurt your cats, dogs or other pets.



Waterproof & Easy To Use

- Our pest repellent providing multiple mounting options. Whether on your wall or fence, or simply inserted in the ground, this ultrasonic repellent keeps at bay small rodents, squirrels, cats, dogs and more.



Solar Powered

- This animal deterrent devices is environmentally friendly. It is equipped with a top solar panel. As long as it is installed in a sunny place, it can convert the solar energy into electricity and store it in the battery that comes with the device.



Upgraded Design

- This ultrasonic mouse repellent features state of the art ultrasonic technology which creates a powerful ultrasonic wave, accompanied at the same time by an alarm sound. The built-in motion detection sensor is highly sensitive and will trigger at an angle of 120 degrees and 15-30 yards distance range, for maximum performance



Eco-Friendly Charging

- The motion sensor covers an angle of 120 degrees left and right, as well as a 45 degree arc from top to bottom, up to a maximum distance of 29 feet for monitoring. When it's sunny outside, it can be charged by solar energy, which is environment-friendly and convenient. The high-grade ABS plastic construction is waterproof and suitable for harsh weather conditions
Human Design

- The ultrasonic animal repellent without any chemical contamination. Ultrasonic waves cannot be heard by human, only animals will be influenced.Your child can play safely in the yard where this device is installed.
Specification:
Color: Dark Green

Main Material: ABS

Infrared sensor angle: 110 degrees

Detection range (Adjustable): 6-8 meters (19.6ft-26.2ft)

Current: 0.12A

Voltage: 4.8V

Power Consumption: 0.5W

Power Supply: 4 x 2/3 AA Rechargeable Batteries

Waterproof Grade: IPx4

Repellent Type: Ultrasonic Pest Repellers

Solar Panel Voltage: 5.5V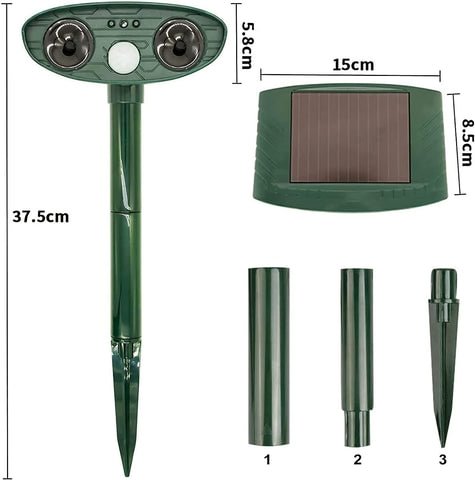 Packing Included:
1 x Solar Repeller

1 x User Manual